ORC Week 2: First We Drink the Coffee Then We Do the Things
Check out the other posts in this series!
Week One, Week Two, Week Three, Week Four, Weeks 5 & 6, Week 7, Week 8

In week 2 of the ORC, I created mood boards and reviewed samples for my coffee shop home office. In this post I share what I used to create the mood boards, discuss options for adding tile to my home office, and highlight the 4 most unique parts of this design.
Setting the Mood
Looking at a mood board for the first time you may think to yourself,
"What's the big deal? It's like a circa 1995 Microsoft paint knockoff of a Pinterest board. How hard could it be to make one?"

Me, before making my first mood board
So hard. So incredibly hard. 😩 Creating my first mood board was an enormous challenge but luckily the ORC community was there to help me out and cheer me on. One kind participant pointed me towards Canva for a free and easy-to-use app for creating mood boards. Another suggested Remove.bg as a free tool to remove image backgrounds. (BTW Canva Pro has this feature built in, but I want to stay on the free version as long as I can).
Side Note: If you're reading this, helpful internet friends, please comment and remind me of your IG handles! I couldn't figure out how to scroll far enough back in my IG notifications to find you 😭!
Is your name Chicago? Because…. You're the Inspiration.
With the technical part demystified, my biggest challenge was choosing just a handful of inspirational pictures from all of the internet. Pinterest, Google Images, and Instagram consumed hours and hours of my day. My toddler protested my sudden obsession with my phone. At some point I just had to shut all my tabs and say "Okay, enough recon, let's make something and if it's not working out, we can pivot." This is what I came up with:
Shout out to everyone on instagram who hyped up and shared my first mood board! I felt so incredibly welcomed to the challenge and encouraged to keep at it. 😊 Just for fun, I threw together a little "mood playlist" of my favorite coffee shop music. It's a short collection of throwbacks and covers of throwbacks, so check it out if you're in the mood for nostalgic background music with a chill vibe and infectious beat.
Since my original mood board mostly covers the desk area, I put together another one (or, actually, two*😅) to capture the coffee bar, which is a little bit of a departure from the rest of the office. The one on the left I posted on Instagram this past week. It's vibrant and a little moody, but an alternative design just kept coming back to me, and I'm actually leaning more towards the vibe on the right, with slightly different shades and finishes. Like I said, the decisions are the hardest part. 🙃
*Full disclosure: There were more than 2 iterations of this. Many. Many. More.
Sampling Like it's Sunday at Costco
To help with the decisions, there were samples. Samples of tile, samples of flooring, samples of paint, samples of concrete… It was like wedding cake tasting all over again, because with the options actually in front of me, decisions were made a lot more quickly. (We chose our cake flavor in less than 2 minutes. It was the only option that had fresh strawberries! Total no-brainer.) With samples, it was a lot easier to see the little details that would ultimately make the decision for me.
Tile… In an Office?
With all of my indecision, there was one thing I was sure of. I wanted to include tile in the coffee bar; it's an uncommon element for an office and will play up the coffee shop feeling. As a bonus, it's also a great opportunity for us to learn how to do tilework on a small area of the house before we have to do a large job like replacing the kitchen backsplash or the powder room floors. Since the amount we need is so small, I considered some fancier types of tile like cement or zellige. I found options on Riadtile that were ready to ship and would sell by the box without a minimum amount. There were more choices on Ziatile, but the 30 sqft minimum on orders made it a no-go for a project this small.
Budget Options
Zellige tiles are labor-intensive to make and can only be made from Moroccan clay. The hand-made look is stunning, but after choking on the price tag for these notoriously fragile and hard-to-install tiles, I wanted a budget-and-beginner-friendly option in the mix. I found some zellige-look tiles on Tilebar and at Home Depot that are actually glazed ceramic and about a third of the price. I'm waiting on those samples before making a final decision.
Projects Where I'm Winging It
I'm already making big changes by installing new floors, tile, and lighting, but to give the office a personalized touch, there are 4 curveball projects that I'm including in my design. I don't know how I'm doing them yet, but I'll be sure to post a tutorial on each one as I come up with my solutions.
1. Gold Leaf Concrete Wall
This comes straight from Agape Cafe. I can't get those amazing gold leaf walls out of my mind, so I'm recreating the look in my coffee shop-inspired office. This week, I'll be testing out multiple approaches to get the look on a scrap of drywall I picked up at Lowe's. I'll post my trials to my stories, so please follow and give me feedback! If all goes well, next week I'll have my own version of Agape's wall.🤞🏽
2. Standing Desk Disguise
We're lucky enough to have a functional standing desk at home, but it's not exactly inspiring to work at. 😬 My husband bought this hideous thing from Ikea while we were long-distance dating, and I've resented its colors and ugly telescoping legs ever since. I'm going to do my best to disguise the ugly legs and give the desk a new top.
3. Water Dispenser Built-in Cabinets
We have a Vitapur water dispenser that will provide hot water in the coffee bar. It's a little ugly right now, but to be honest, I have a sentimental attachment to it. When I was first pregnant with our son, we lived in Cambridge, MA, where the water is notoriously hard. (It's so bad it voids warranties!) On a trip to Long Island during my first trimester, I commented on how much I preferred the water there. My husband later surprised me with this dispenser and several 5-gallon jugs of the "New York water" to keep me hydrated during the toughest part of my pregnancy. 🥰 I'm excited to take this treasured machine apart and give it a new look for the coffee bar.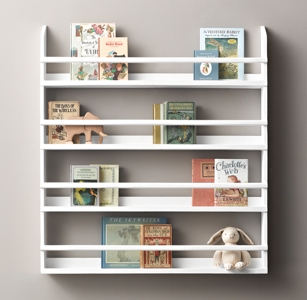 4 Hidden Door Book Display
The final project in this challenge is a hidden door for the utility closet, disguised as a book display! Many of the coffee shops I love are also bookstores, so I'm really excited for this addition. I'm basing the design on this tutorial, but I'll need to make several changes to make it work for our purposes.
Coming Up
This week the physical transformation begins, starting with the walls! The feature wall is going up and the chair rail will be removed. Then, we'll patch and paint the coffee bar closet and get to work on the cabinets inside. If you're not following me on Instagram yet, it's a good week to start! I'm sharing all the experiments on my stories, so you'll have to watch to see if my plans for the water dispenser really work. 😉 There's also a few coffee-related giveaways coming up that you don't want to miss!
If you're curious about other ORC participants, you can find all the guest participants here or check out the tags #oneroomchallenge and #BHGORC. See you on Instagram, and in next week's post!